A headache is any type of discomfort or pain around the head, face, or neck area. However, the reason for the headache can differ from one individual to another. They vary greatly regarding the severity, duration, and location of the pain. The pain may be sharp, throbbing, or dull, with gradual or sudden onset, and may last from less than an hour to several days. While there are more than 100 different types of headaches, the three most common types are Tension Headaches, Migraine Headaches and Cervicogenic (Neck) Headaches.
Tension headaches are the most common form of headache and most people will experience one at some point in their lives. They can range from mild and annoying to severe and debilitating.
A tension headache is characterized by dull pressure or tightness on both sides of the head and sometimes on the neck. These headaches occur when the muscles in the neck and scalp contract. Tension headaches are often triggered by stress, poor posture, certain repetitive motions, and other physical activities.
Tension headaches normally do not include nausea or vomiting, but there may be photophobia (sensitivity to light) or phonophobia (sensitivity to noise). There may be tenderness to touch around the head.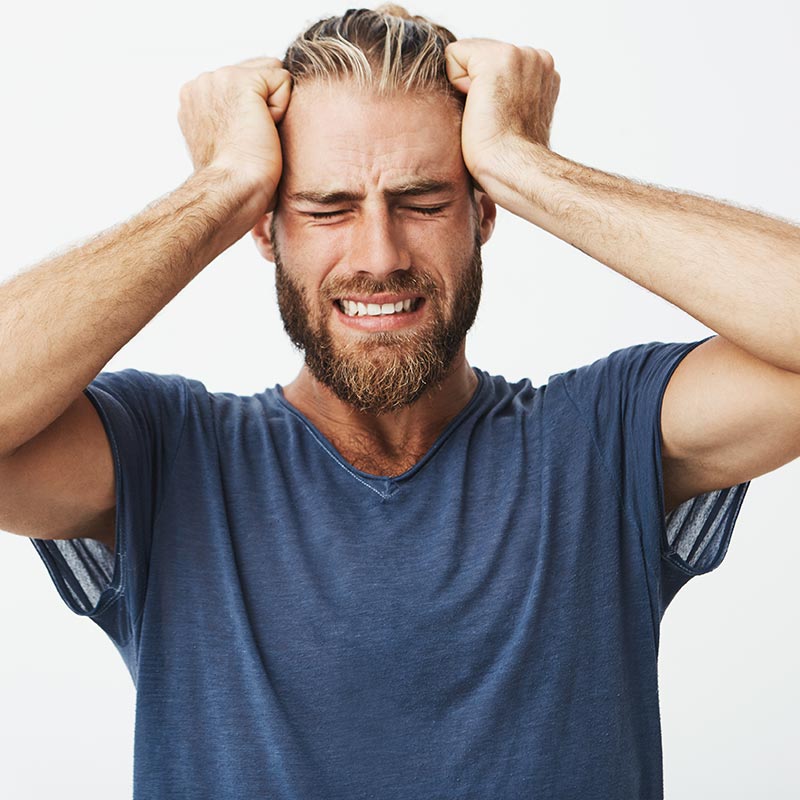 Emotional or mental stress
Lack of physical activity
Tightness or pressure around your forehead or on the sides and back of your head
Dull, aching pain at your temples or the back of your head and neck.
Tenderness on your scalp, neck, and shoulder muscles
Pressure and constant aching, but no throbbing or pulsing, on both sides of your head
Migraines are the second most common form of headache. Migraines are recurrent and are characterized by moderate to severe throbbing or pulsing pain in the head that may last several hours to days.
The pain is recurrent and usually felt on one side of the head only. Migraines often have warning signs that arise before the actual headache begins including seeing an aura and increased sensitivity to light and sound. Triggers include barometric pressure changes, hormonal changes, certain foods and drinks, stress, and exercise.
Migraines can affect your ability to work, and function normally because of the intense pain. When it occurs, the blood vessels in your head expand and the tissue around your brain swells. This swelling is very painful and for many migraine sufferers, it can lead to vomiting, visual disturbances, and increased sensitivity to light.
Women are three times more likely to experience migraines than men, and the frequency and severity of symptoms are linked to hormonal changes during the menstrual cycle.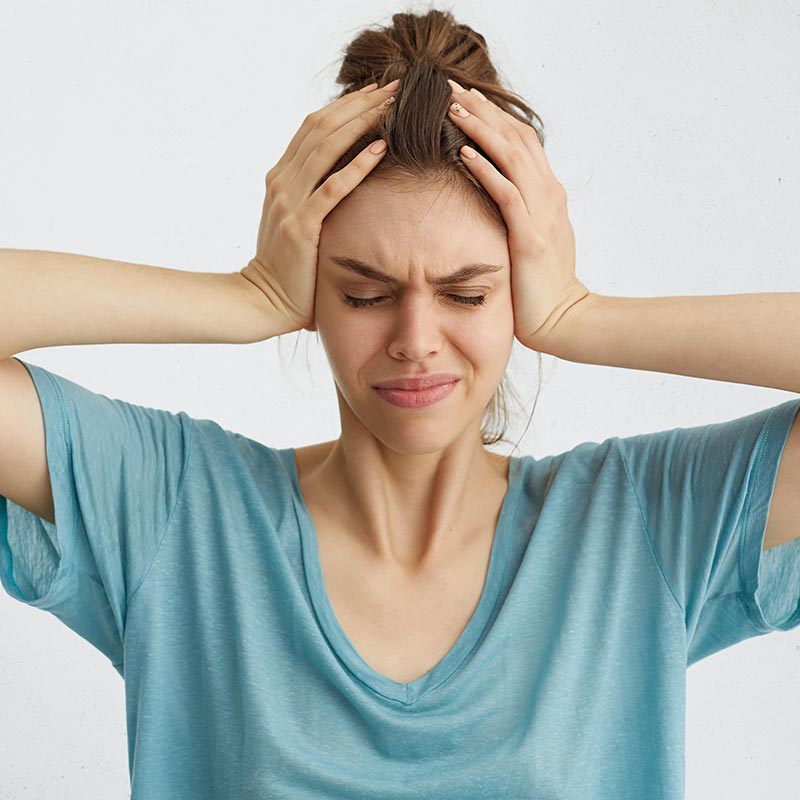 Hormonal changes in women
Changes in sleep patterns
Changes in the environment
Intense, throbbing, severe pain
Pain behind one eye or ear, or temples
Seeing spots or flashing lights
Sensitivity to light and/or sound
Problems performing daily tasks
Cervicogenic headaches are a pain syndrome resulting from dysfunction in the cervical spine (neck), referring pain up into the face and head. This type of headache comes with reduced range of motion and tender musculature of the neck.
Cervicogenic headaches are triggered or aggravated by neck movements, prolonged awkward neck postures (e.g, eyes focused on a computer monitor), and/or prolonged pressure at the base of the skull. These headaches may also be associated with shoulder or arm discomfort, dizziness, nausea, light headedness, inability to concentrate, and visual disturbances. The pain from this headache can be in multiple spots of the head, can be on either side and can change locations. This condition may also be the result of an old injury such as whiplash, a car accident or repetitive strain.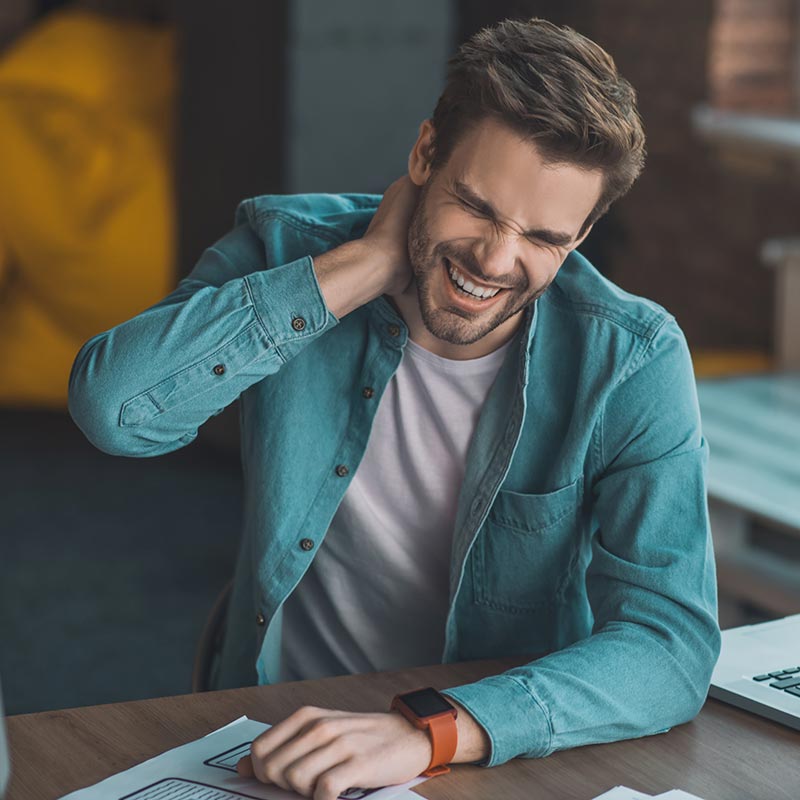 Incorrect lifting or carrying
Excessive bending or twisting of the neck
Activities where hands are used in front of body
Onset of headache is gradual, usually after activity, or the day after activity
Dull or piercing ache at the back of the head, near the eyes or temple
Pain on one side of the head
Neck pain, stiffness, problems moving the neck
Pain, pins and needles or tingling may also be felt in upper back, shoulders, arms, or hands
Symptoms may worsen during certain movements of the neck
Light-headedness, nausea, tinnitus, sensitivity to light may also occur
How Can Chiropractic Care Help with Headaches?
Research has shown that chiropractic treatment is a great way to manage and relieve the pain caused by most types of headaches. Chiropractic care offers headache sufferers a gentle, safe, non-invasive, and non-addictive alternative to prescription or over the counter pain medications.
Treatment for your headaches will depend on the results of a thorough examination by Dr. Goel. Your individualized care  plan may include:
A specialized stretching program
Lifestyle changes such as diet, exercise, and behavioral changes.
In some cases, imaging such as CT scans, X-rays, and MRI scans may be necessary for the assessment of your headaches.
CLICK TO BOOK AN APPOINTMENT AT OUR CLINIC TODAY
At the Decarie Square Wellness Chiropractic Clinic, we believe the body works as one connected system. The spine, nervous system, muscles, and joints are all connected to each other, affecting the way our bodies maintain and restore their health. Dr. Goel combines a variety of treatments that reflect this holistic approach so that your body can be resilient in facing everyday challenges.
Chiropractic care is a safe, efficient, and effective way not only for eradicating the pain but also to address the underlying cause. It is important to take headaches seriously. If you are suffering from headaches, contact our friendly clinic to book an appointment and find out how we can help treat your condition. To book an appointment, call 514-344-6118 or contact us online.